Not everyone just finds Uber Services that helpful and so if the case, you'd also be willing to let it go. If so, we can help you cancel your Uber One membership with step-by-step guide. Canceling the membership is a pretty simple and easy process, if you follow proper steps and avoid doing anything out of the box.
Uber one, being a top-notch brand is a one-stop shop for all your services you're using with Uber. Uber One let you access services like Uber rides, delivery, and groceries. There're plethora of benefits you can enjoy while having a membership with Uber One. All these perks and benefits comes with paid subscription and you can also enjoy special discounts and rebates.
You can follow different ways to cancel your Uber One membership. You can easily cancel the services using the Uber App or you can also use your browser to go to their official website. If you're using Uber Eats app, you can still use it to cancel your Uber One Membership.
How much does it cost to get an Uber One Membership? What about free Trial?
For a mere cost of $9.99 per month or annual subscription cost of $99.99; you can enjoy different Uber Services with Uber One like Uber Delivery, rides, and groceries. Here're some benefits you can avail while being a member with Uber One:
You can enjoy about 5% off on eligible food or other orders
This 5% discount is also on Uber Rides.
There're $0 delivery fee for eligible orders over $15 and order $30 for groceries
Some offers, also make you eligible to enjoy about 50% discount on multiple offers. If you're still unsure of weather to use Uber One membership or not; that's where the one-month free trial comes handy. You can enjoy all the membership benefits for one month and at the end, you can choose if you'd like to continue or otherwise.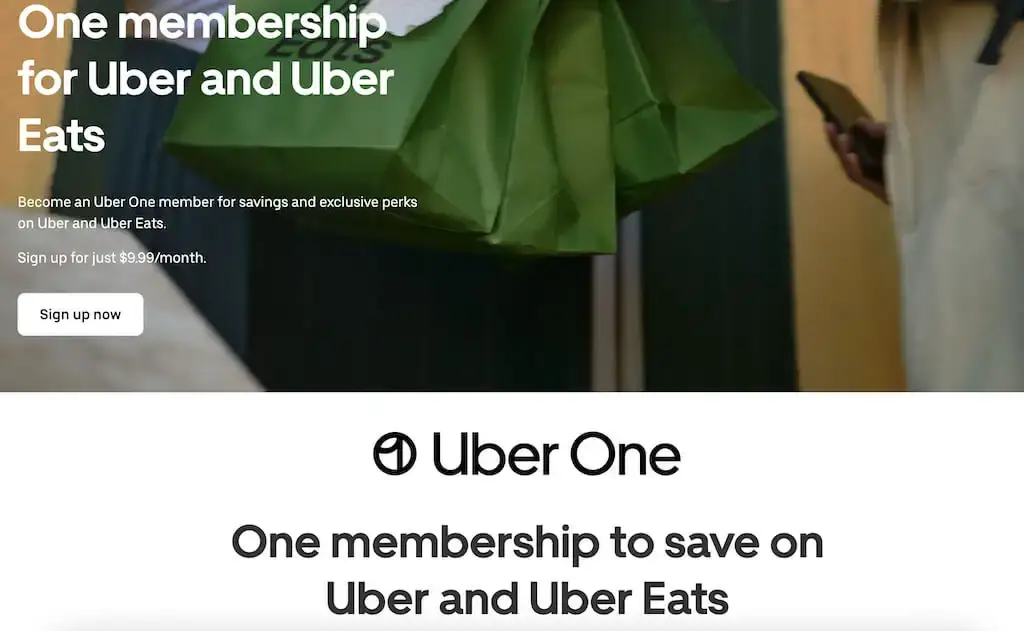 However, please keep in mind, that this one-month-free trial is only available to the first-time users. So, if you were previously registered; you can not avail this opportunity. However, you can easily refer your friends and family members and they can thank you for the suggestion.
If you're a member of Uber One and want to cancel your membership, you can do so from the website or the Uber app. You can also cancel the membership from the Uber Eats app.
Also Read: How To Cancel LVAC Membership? Easy Steps To Cancel!
Cancel Uber One from Uber App
If you're using the Uber App and want to get rid of the Uber One subscription; here're the steps:
Just log into your account through your mobile, tablet, or any other device. If you're already logged in move to the next step.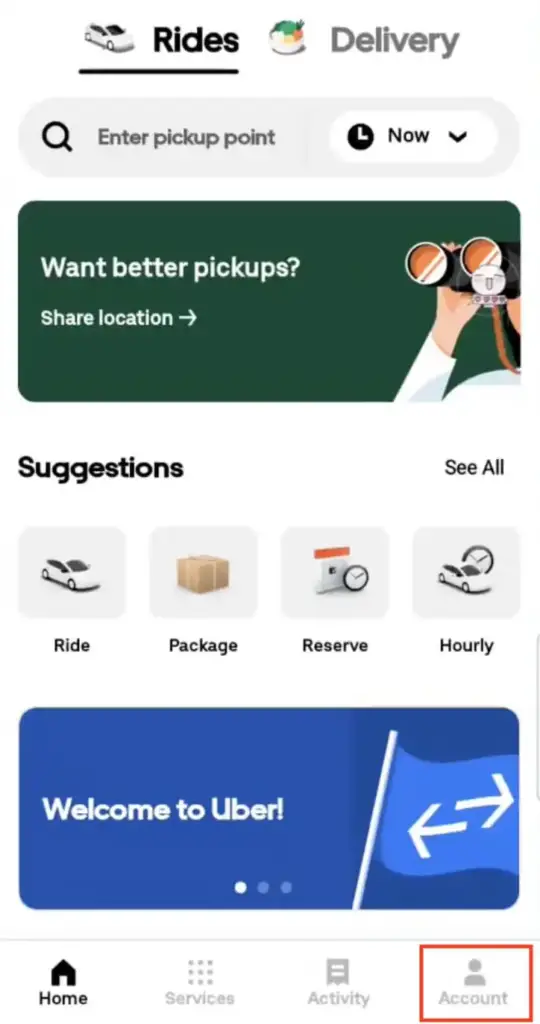 You need to go the Uber One section from the menu. To activate the menu just tap on the Uber Profile icon at the top of the screen.
In the Uber One Section, scroll down to find Manage Membership option and tap on it.
You'll find the option called "Leave Uber One" and tap it to end your membership.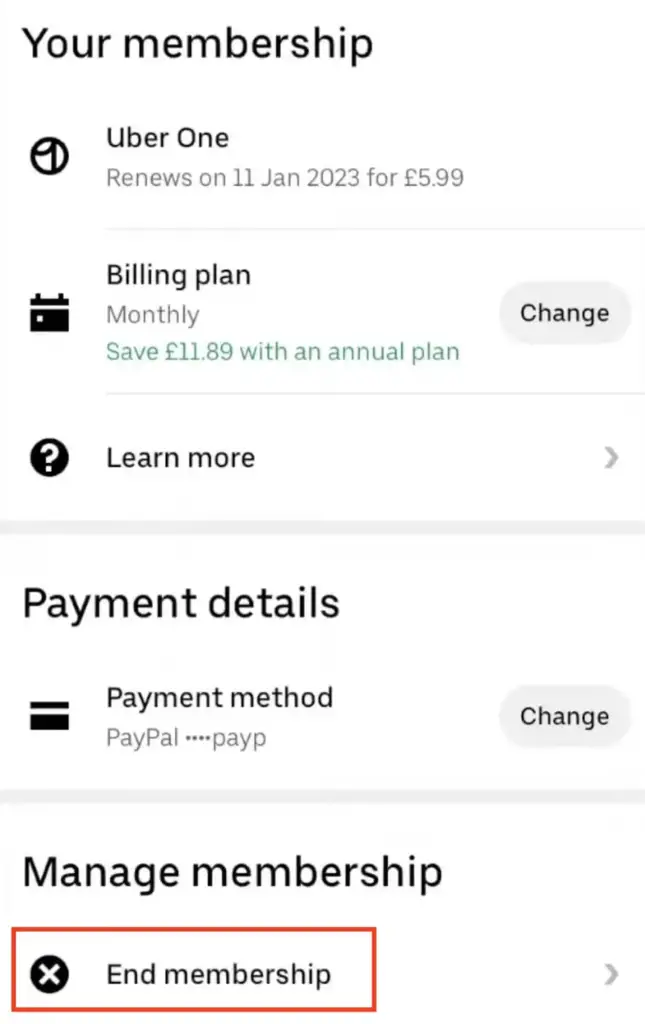 In the next screen, just hit confirm that you wish to cancel the membership. And that's it.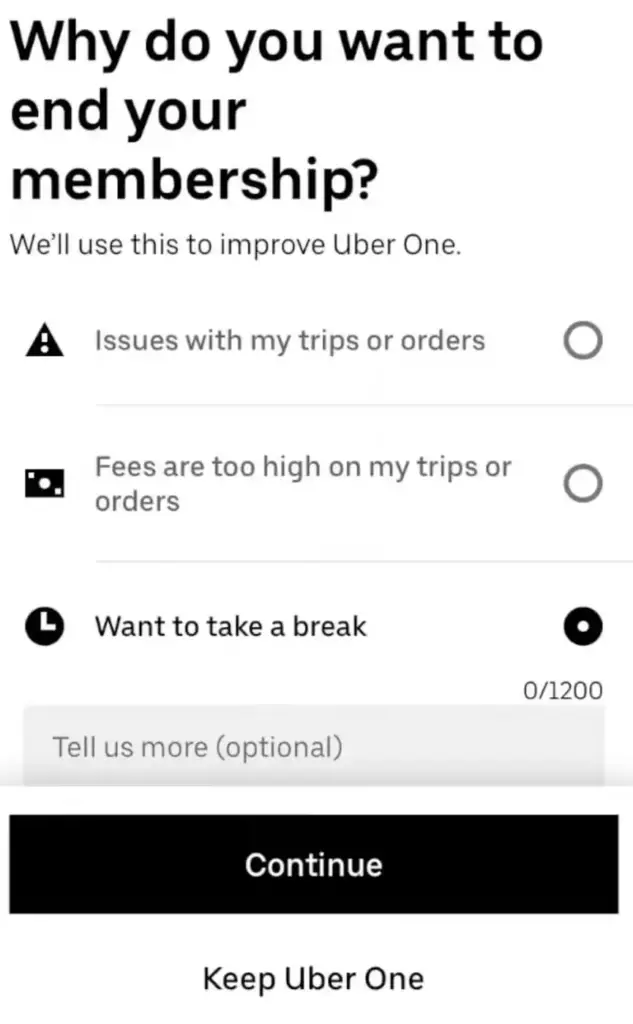 Cancel Uber One from Website
The next method is using the website to cancel your Uber One membership; here're the steps:
Just logon to the Uber official website.
Login to your account using the correct username and password combination.
You need to head over to the Uber Help Page for check if you can cancel your membership there.
If you're not finding an option, you can contact the Uber representative with chat feature and they'll help you cancel your membership.
This method is also helpful if you have forget your username and / or password.
Cancel Uber One from the Uber Eats App
On your device, you need to open the Uber Eats Application in order to cancel your Uber One membership.
If you're not yet logged in, enter your username and password to login to the Uber Eats app.
Tap on the profile or account icon at the bottom of your device's screen.
Go to the Uber One Section inside the profile menu.
Tap on the Manage Membership option and hit end Membership.
The app will ask you about to Leave Uber One Option, hit over there and confirm your cancellation procedure.
How to cancel Uber Pass? Deactivate Uber Pass
 The Uber Pass membership is free for about 30 days. After the trial period ends, your Uber Pass will continue automatically with the plan you chose. If you want to stop using it and avoid charges, you can turn off your pass.
Here's how you can do it:
Open the app on your device and select Uber Pass from the menu.
Go to the end of the page, and you'll see an option called Automatic Renewal.
Click on the box next to it to uncheck the option.
This will turn off your Uber Pass, and you won't be charged for automatic renewal.
AQs about Canceling Uber One Membership:
Can you cancel Uber One whenever you want? Yes, but make sure to cancel at least 48 hours before your next payment. If not, you'll be charged again.
Why can't you cancel your Uber One Membership? You need to be in the same city where you got the pass to cancel it. Also, use the same account you used to sign up with Uber.
How to cancel Uber One Free Trial? If you're not happy and want to stop the membership, follow the steps mentioned earlier. If it's more than 48 hours before your next payment, you can cancel through the app. If it's within 48 hours, contact Customer Support.
Can you get your money back if you cancel Uber One? Yes, if you cancel within the first 30 days and haven't used any benefits, you'll get a refund.
Wrap up
In conclusion, Uber One offers many features on one platform for convenience. But if you don't use it much, you can cancel it by following the steps we talked about earlier.