In the ever-evolving landscape of digital entertainment, Fraavy emerges as a game-changer, a gateway to boundless online experiences. Unlike conventional streaming platforms, Fraavy offers more than just the usual fare of movies and shows.
It opens the doors to a world of unlimited online gameplay, an endless music library, and much more.
If you've been contemplating subscribing to Fraavy but still have a few lingering doubts, fear not.
This article will guide you through the cancellation process, ensuring you are well-informed about your options.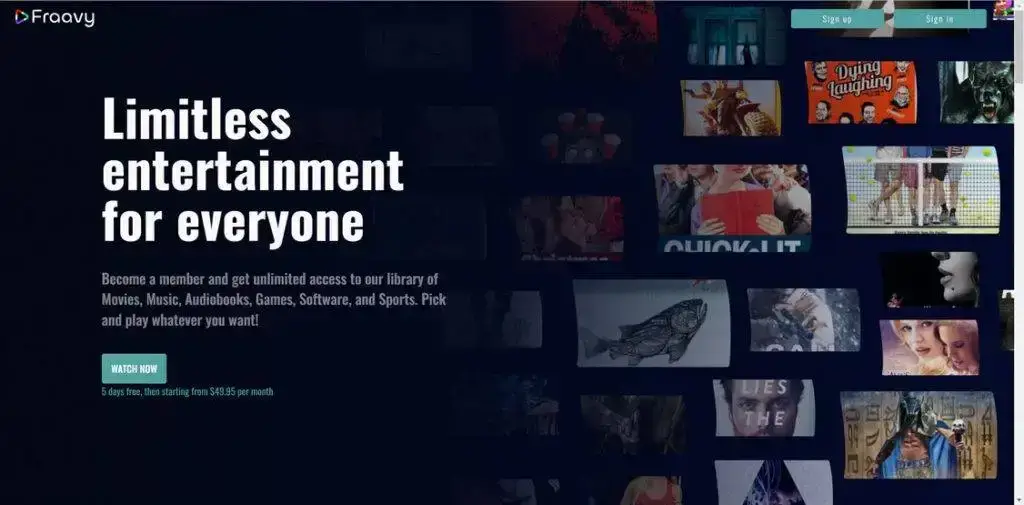 Embarking on the Journey with a 5-Day Trial
Before committing to a paid subscription plan, Fraavy extends a welcoming hand with a generous 5-day free trial. This trial period allows you to explore its extensive offerings and decide if it aligns with your entertainment preferences. It's a risk-free way to dip your toes into the vast ocean of entertainment Fraavy provides. And if, for any reason, you decide that Fraavy isn't your cup of tea, rest assured that cancelling your subscription is a hassle-free process.
Easy ways to cancel Fravvy Subscription – Online & offline
Canceling your Fraavy subscription is a straightforward process, and there are three methods to choose from, ensuring you have the flexibility to cancel in a way that suits you best. Below, we delve into each method, offering detailed insights into the steps involved.
Method 1: Cancel Fraavy Subscription Online
Cancelling your Fraavy subscription online is a convenient option. To get started, follow these steps:
Log In: Visit the official Fraavy website and log in to your Fraavy account.
Access Your Profile: Once logged in, click on the profile icon located in the top right corner of your screen.
Navigate to 'My Account': In the drop-down menu, find and select the 'My Account' option. Here, you'll find all the essential details about your subscription.
Edit or Cancel: Within your account settings, you can edit your subscription plan or proceed to cancel it.
This method puts the power in your hands, allowing you to make changes to your subscription with ease.
Method 2: Cancel Fraavy Subscription On Call
For those who prefer a more personalized approach, reaching out to Fraavy's service team via phone is a viable option. Here's how to do it:
Contact Customer Service: Dial the customer service number at 1-866-471-9677 and speak to a Fraavy executive about your cancellation request.
Provide Necessary Information: During the call, you will be asked to provide specific details related to your account. Sharing this information ensures a smooth cancellation process.
Confirmation Email: After your cancellation request is processed, expect to receive a confirmation email from Fraavy. This email serves as proof of your successful cancellation.
Method 3: Cancel Fraavy Subscription via Live Chat
For those who prefer written communication and real-time assistance, Fraavy offers a live chat option on their contact page. This feature is available in both English and French, allowing you to communicate in your preferred language. Here's how to use it:
Access Live Chat: Visit Fraavy's contact page and select your preferred language – English or French.
Initiate the Chat: Start a live chat with a Fraavy executive. Feel free to enter your query, and the executive will guide you through the next steps.
Contacting Fraavy Customer Support
If you have any queries or concerns about your Fraavy subscription, the customer support team is readily available to assist you. You can reach out to them at support@abhelpline.com. Whether you have questions about billing, account settings, or content recommendations, they are there to provide you with the support you need.
In conclusion, Fraavy opens up a world of endless entertainment possibilities, but it's reassuring to know that should you ever decide to cancel your subscription, the process is straightforward and customer-friendly. Whether you choose to cancel online, via phone, or through live chat, Fraavy ensures that your preferences and convenience are a priority. So, explore the boundless content Fraavy has to offer with confidence, knowing that cancellation is always an option if it doesn't meet your expectations.
As you navigate your digital entertainment choices, remember that Fraavy is just one of many options available. If you're interested in exploring alternatives, be sure to check out our guides on canceling Florida Blue Insurance and Lemonade Insurance. We're here to provide you with the information you need to make informed decisions about your subscriptions.
Your online entertainment journey should be as enjoyable as possible, and that includes having the flexibility to choose and change your subscriptions as your preferences evolve. Fraavy's user-friendly cancellation process ensures that you're in control of your entertainment destiny, every step of the way. So, whether you're diving into thrilling games, immersing yourself in captivating movies and shows, or grooving to your favorite tunes, make the most of your digital entertainment experience with Fraavy.